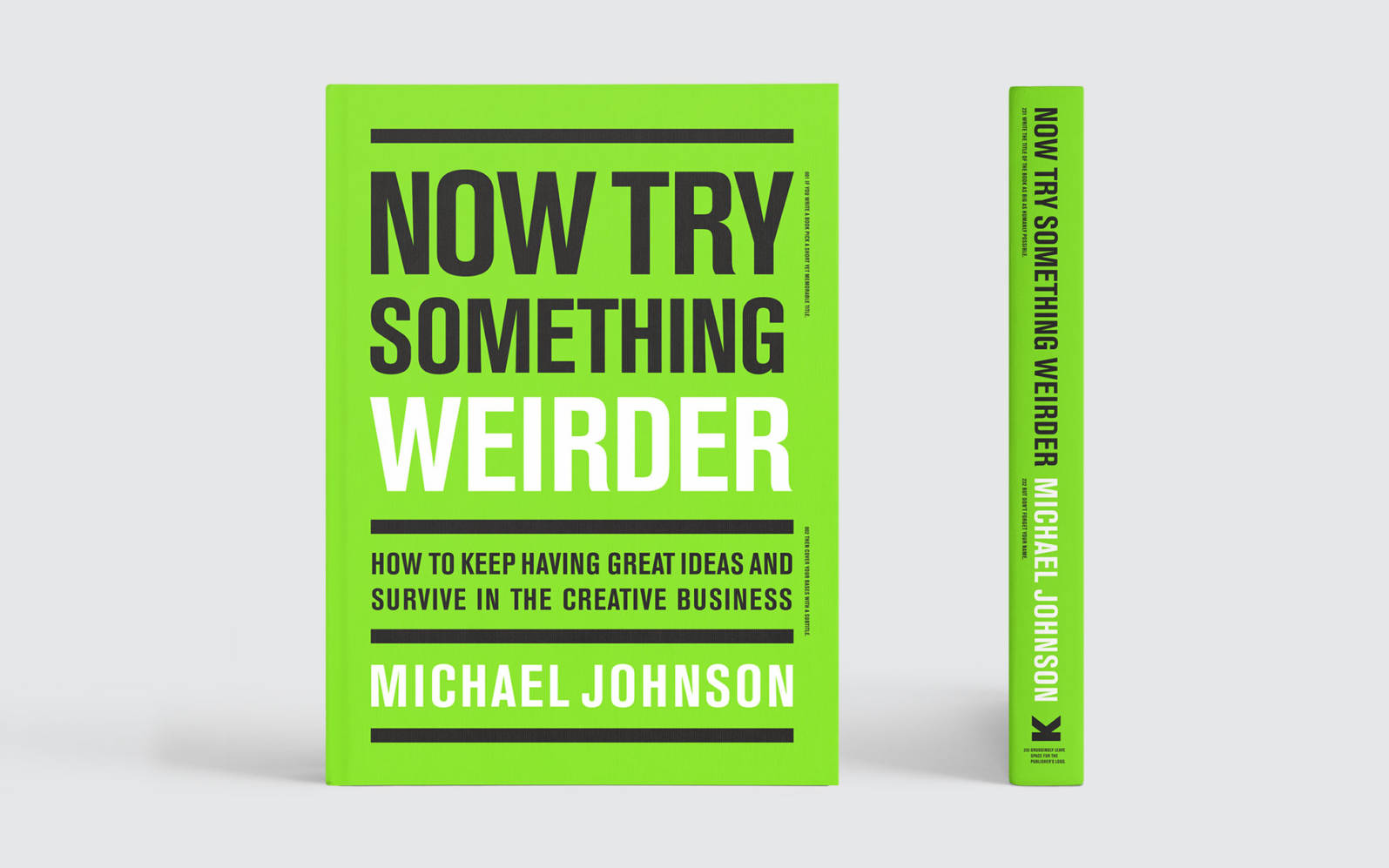 What's On
Keep having great ideas. And survive in the creative business
This event has happened
'For three decades people have been asking me for my advice on how to have ideas, where they come from, how to keep having them, and so on. And they ask about my life in the creative business, its ups, downs and pitfalls. I thought it was about time I wrote it all down.'
This is the background to Johnson's new book, Now Try Something Weirder which began backstage at a famous design conference whilst waiting to follow the penultimate speaker, Erik Kessels.
Kessels had an audience of normally straight-faced Germans in stitches of laughter with his collection of found images. 'I wrote a mental note to myself there and then' explains Johnson, 'never follow a Dutchman onstage who has been showing pictures of erect penises for 50 minutes.'
A few weeks later he began a long train journey remembering that note, and by the end of it had written almost 200. In its final form, Now Try Something Weirder packs 233 hints, tips and ideas into a pocket-sized, easy-to-read handbook, written to help all types of creative – from student to graduate, from creative director to business owner. Who knows, it might just help.
Speakers

Michael Johnson
Founder Johnson Banks
Michael Johnson has pretty much seen it all. He's had nine jobs and was fired from three of them, before deciding he'd become unemployable. He started Johnson Banks in London 26 years ago.
He now has clients across the globe. He has rebranded Mozilla entirely in the open, launched a world-beating campaign raising billions for the University of Cambridge, and transformed the thought leaders of impact investment, Acumen – whilst knocking out dozens of stamps and hundreds of posters at the same time.
Johnson wrote a book on problem solving then lifted the lid on the branding process with his international bestseller, Branding: In Five and a Half Steps (Thames and Hudson). His third book, Now Try Something Weirder – How to keep having great ideas and survive in the creative business (Laurence King) comes out in May 2019. It shares 233 thoughts, hints and tips on design, communication and branding in one small, affordable handbook.
Over his career Johnson has won most of the design world's most desirable bits of wood and metal, including seven 'yellow' and one 'black' pencil from D&AD. In 2017 he was awarded the Gold D&AD's Presidents Award, joining a list of previous recipients that includes Sir Terence Conran, Ridley Scott, Alan Parker and Wally Olins. Within education he has been D&AD President, and an external examiner at Glasgow School of Art, Kingston University and LCC. He has helped revalidate the RCA's communications course and is now an Honorary Professor at Glasgow School of Art.
In his spare moments he wields old-fashioned yet wonderful cameras, and wonders why, after 48 years of trying, he isn't a better guitar player.