What's On
Here We Are: Screening and Q&A with Oliver Jeffers & Philip Hunt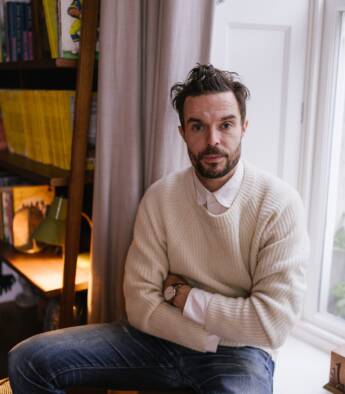 Oliver Jeffers
Visual Artist & Author
Philip Hunt
Partner, Director & Creative Director at Studio AKA
This event has happened
We've got a little bonus event to finish off BDF 2023 – and what a bonus it is. On Saturday 10th June, Oliver Jeffers will be back on stage to present the 2020 film Here We Are: Notes For Living on Planet Earth based on the book of the same name alongside Director Philip Hunt.
Oliver and Philip first worked together on BAFTA-winning Lost & Found, an adaptation of one of Oliver's first picture books 15 years ago. After the screening of Here We Are, held at the majestic Giant Screen, we'll be delving deeper into the relationship between Oliver and Studio AKA and the process of bringing his wonderful picture books to life.
This event will be free to attend, and we encourage families to join us for the screening, which will be roughly 35 minutes. Once the film has finished, there will be a short break, after which we will be sitting down for a Q&A with Oliver and Philip, hosted by Jenny Moore from local independent children's bookshop how brave is the wren.
The Q&A will be aimed at folks looking to learn more about the development process of the film, so may be uninteresting for young children. Fear not though, in the foyer we'll have Lets Make Art hosting a family friendly workshop from 11am.
Schedule:
10:00am: Doors Open
10:30am: Short intro followed by the screening of Here We Are
11:10am: Break
11:20am: Q&A with Oliver Jeffers & Philip Hunt
12:00pm: Finish
In the Foyer:
From 11:00am: Join Lets Make Art for a family friendly, drop-in workshop celebrating Here We Are.
---
About the film
On the eve of Earth Day, a precocious seven-year-old learns about the wonders of the planet from his parents – and a mysterious exhibit at the aptly named Museum of Everything.
Here We Are: Notes for Living on Planet Earth is based on the best-selling picture book by Oliver Jeffers.
Speakers
Oliver Jeffers
Visual Artist & Author
Oliver Jeffers is a visual artist and author working in painting, bookmaking, illustration, collage, performance, and sculpture. Curiosity and humour are underlying themes throughout Oliver's practice as an artist and storyteller. While investigating the ways the human mind understands its world, his work also functions as comic relief in the face of futility. His twentieth book as author and illustrator, Begin Again, will be released in October 2023.
Philip Hunt
Partner, Director & Creative Director at Studio AKA
Philip's diverse body of directing work spans an eclectic range of animation projects, including the double-EMMY-winning 'HERE WE ARE: NOTES FOR LIVING ON PLANET EARTH' —a half-hour animated adaptation of the best-selling book by Oliver Jeffers for Apple tv+; featuring the voices of Meryl Streep, Chris O'Dowd, Jacob Tremblay and Ruth Negga. Philip's previous collaboration with Jeffers was the BAFTA (& 61 international awards) winning children's film LOST AND FOUND, narrated by Jim Broadbent and featuring a score by Max Richter. Alongside this, his work includes the multi-award winning short film AH POOK IS HERE – an interpretation of recordings by William s. Burroughs and commissioned projects for BMW, Kradvat, Herman Miller, One.org and (RED).org.