What's On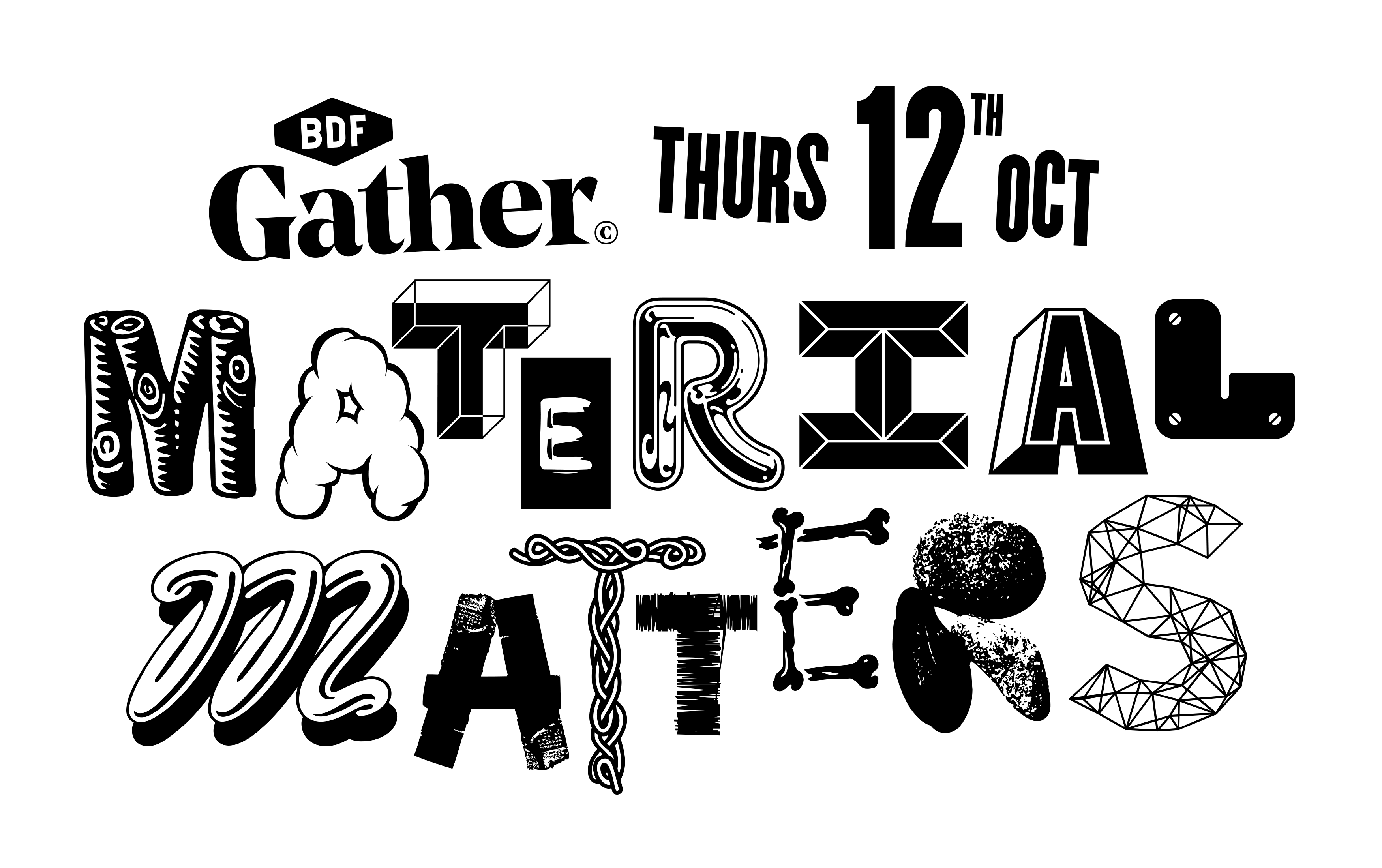 Gather: Material Matters
This event has happened
It's nearly 60 years since Marshall McLuhan said 'The medium is the message'. We thought it would be fun to gather a collection of speakers known for their affinity with a particular material – because the relationships we have with the mediums we use are unique – and hold stories we don't often hear. Our speakers are an eclectic mix of material masters, working hands-on across varied mediums and methods; acrylic, glass, paper and even the microscopic!
Design maverick Harriet Vine MBE is co-founder and Creative Director of Tatty Devine, the iconic and pioneering British jewellery brand that showed the world what could be done with colourful acrylic. Co-founded with Rosie Wolfenden in 1999 in the heart of East London, they are the world's go-to brand for original and fun statement jewellery, pushing boundaries of what is possible in jewellery design.
Williard Wigan (another MBE owner!) is a master of miniature material creations. Alongside his MBE he's also achieved two Guinness World Records and an Honorary Doctorate, been the subject of an award-winning Channel 4 documentary, and had his art exhibited across the globe, attracting celebrity collectors. He is living proof that learning differences can be a superpower and that small things really do matter.
Tamar Nikki Palmer is a curious maker who delves into historical topics to study, develop, and produce innovative glass works – motivated by socioeconomic inequalities faced by ethnic groups. Hailing from Detroit and now based in the Black Country, her glasswork is unique in that it combines interesting aesthetics with interactive raw materials such as metals, ceramics, and enamels.
Last but not least… Rob Ryan is a visual artist who specialises in paper-cutting and screen-printing. His work combines beautifully intricate silhouettes and patterns with sentimental autobiographical phrases – all carefully cut from paper with a scalpel. Since studying Art Foundation at Birmingham Polytechnic he's gone on to be featured in Vogue, collaborate with fashion designer Paul Smith and collectors of his work include Helena Bonham Carter and Tim Burton.
There'll be some delicious street food and the Birmingham Design Shop will be on site supplying all your creative needs, and some of the speakers will also have products & books on sale on the night, which you can get signed.
Speakers

Dr Willard Wigan MBE
Micro Sculptor
Willard Wigan, micro sculptor and creator of the world's smallest hand-made micro art in history.
Achieving two Guinness World Records for the smallest sculptures ever created entirely by human hand, he has been the subject of an award-winning TV documentary from Channel 4, been the guest of TV chat and radio shows worldwide and his work is exhibited across the World within the Ripley's Believe it or Not exhibitions.
He now invites you to enter his tiny world and decide for yourself if nothing exists.
Tamar (Nikki) Palmer
Artist
Tamar (Nikki) Palmer is a curious maker who delves into historical topics to study, develop, and produce innovative glass works that are motivated by socioeconomic inequalities faced by ethnic groups. She uses glass as a tool to help craft her Black American perception that parallels with the contextual and historical hidden truths rooted in American society.
Rob Ryan
Artist
Rob Ryan was born in 1962 in Akrotiri, Cyprus. He studied Fine Art at Trent Polytechnic and at the Royal College of Art in London where he specialised in Printmaking.
Rob has exhibited widely across the UK and internationally and has written and illustrated several books, 'This Is For You', 'A Sky Full Of Kindness' and a trilogy of children's books.
His Monograph entitled 'I Thought About It In My Head And I Felt It In My Heart But I Made It With My Hands', the first book of his collected artwork, was published last year with Rizzoli.
He lives and works in London, UK.
Harriet Vine MBE
Co-founder Tatty Devine
Harriet co-founded Tatty Devine over 20 years ago along with Rosie Wolfenden, and the duo have been at the helm of the company ever since, driving the brand forward with original ideas, creative passion and business savvy.
The feminist duo met while studying Fine Art at Chelsea School of Art, and became fast friends after moving in together. Tatty Devine came about after they graduated and has been the root of much of their achievements over the years that followed. From collaborations with industry greats, seals of approvals from those who make them feel starstruck to receiving MBE's for their contributions to fashion, the last 20+ years have been a flurry of dreams coming true.