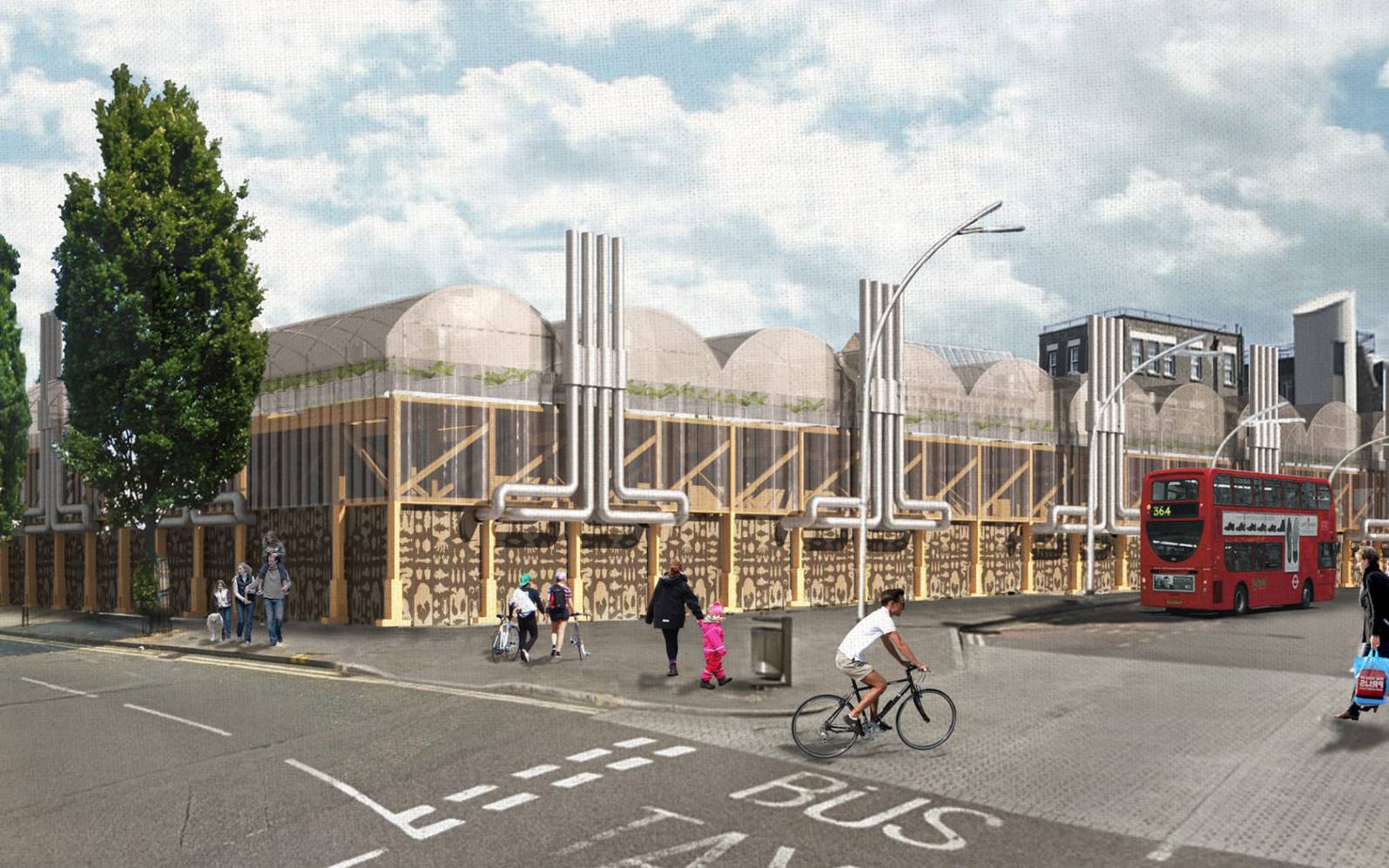 What's On
Branching Out
This event has happened
Join Steve Webb, one of the founding directors of Webb Yates Engineers and Maria Smith, founding director of Interrobang and former director of multi-award-winning art and architecture practice Studio Weave, as they discuss working across boundaries created between the disciplines of architecture and engineering.
Too often architects are divested of any power to innovate in the face of impenetrable engineering imperatives, and somehow at the same time, engineers are relegated to 'making it work'. Beyond multidisciplinary, transdisciplinary working is to overcome the pernicious boundaries of language and culture and to reject the restrictive zones in which we operate.
But how does this work in practice? Focusing on this transdisciplinary approach, Maria and Steve will discuss the design of Ilford Community Market – a new build, fully demountable urban market in the heart of Ilford, east London. Rethinking the traditional notion of static building design, the market has been designed to circular economy principles. The talk will illustrate how the hybrid scheme incorporates the architecture, structure and building services, and how it operates as both a community market on ground floor level and a hydroponic farm housed in polytunnels on the roof.
We will welcome open conversations about 'truth to materials' and structural solutions for long-term durability, adaptability, disassembly and reusability.
Speakers

Steve Webb
Director at Webb Yates
Steve started his career as a site engineer for the Jubilee Line Extension, gaining first-hand experience of site issues and subterranean construction in London. He went on to work at Whitby Bird and Sinclair Knight Merz and Santiago Calatrava, where he worked on prestigious projects including Wembley Arena and the Turning Torso tower in Sweden, a 58 storey residential tower with a dramatic twisting form achieved with a hybrid steel and concrete frame.
Since founding Webb Yates Engineers, Steve has designed a variety of innovative structural solutions which have seen the practice win numerous awards. These include the Fuente del Jarro factory in Spain which incorporates V-shape trusses as part of the steel and concrete composite long span solution. Steve also designed the feature steelwork package for the Unilever Headquarters including an innovative stressed skin profiled metal deck roof.
Steve has a broad knowledge of structural materials and is experienced designing with a range of construction technologies. Steve is interested in combining imagination with technical rigour to create artful and inventive structural designs.
Steve is also a visiting lecturer at Oxford Brookes University School of Architecture and a Structures tutor for Architectural Association Interprofessional Studio.

Maria Smith
Founding Director at Interrobang
Maria is an architect and founding director of architecture and engineering practice Interrobang. Interrobang was founded with engineers, Steve Webb and Andy Yates of Webb Yates Engineers in order to make extraordinary contributions to the built environment though a genuinely transdisciplinary design process. Projects currently range from the first new pedestrian and cycle bridge to be built in Bath city centre for a century, to the refurbishment of the Grade II* listed Hoover Factory to create 66 new homes.
Prior to this, Maria was a founding director of multi-award-winning art and architecture practice Studio Weave where she led a range of projects for local authorities, community groups, and arts groups. Maria studied at the University of Bath (UK), Technical University Delft (The Netherlands) and London Metropolitan University (UK).
Maria writes a monthly column on architectural practice in the RIBAJ and contributes to magazines including the Architects' Journal, the Architectural Review, Dezeen and others. She is co-curator of innovative series of politics and architecture debates, Turncoats; a member of the RIBA National Awards Panel; an external examiner at the University of Sheffield and Centre for Alternative Technology in Machynlleth, Wales; Creative Director of the 2016 RIBA Guerrilla Tactics Conference, Super Models; and a trustee of The Architecture Foundation.