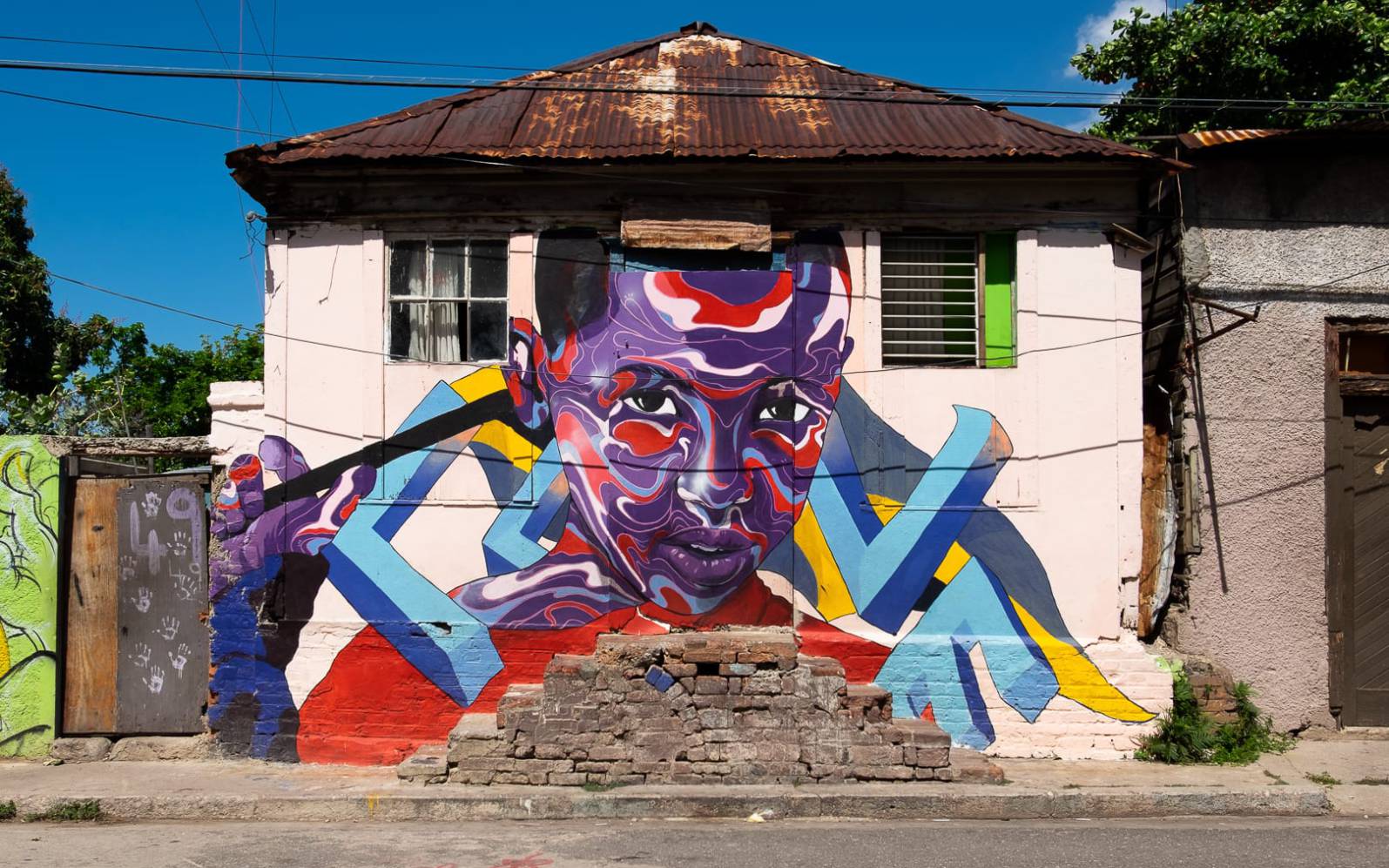 What's On
Big tings a gwaan down di street
This event has happened
Big tings a gwaan down di streetis the first exhibition in the UK that explores the visual language of Jamaican streets, expressed through the omnipresence of hand-painted signs, street murals and graffiti found on walls across the island. The exhibition includes a collection of photographs, original Jamaican signs and video stories collected by Tracey Thorne on her journeys across five parishes on the island of Jamaica.
This project had three key focuses: to meet the sign painters and learn about their practice; to explore the types of street (mural) art found in Jamaica; and to walk the streets to find examples of other messages daubed and graffitied on walls.
On the street, the convergence of commercial signs, daubed graffiti and the painted murals create a rich visual landscape reflecting aspects of Jamacian life and culture. The author Marlon James describes the importance of the sign to Jamacian culture beautifully. He says; "if hip-hop's visual language is graffiti, then dancehall's visual language is the sign, the event poster – the notice that 'big tings a gwaan down di street'."
Speakers

Tracey Thorne
Founder Ghost Streets
Tracey Thorne has lived in Birmingham since the late 1980s.  She has spent over twenty five years working with local communities and has a Masters degree in Public Health. In 2018 she founded Ghost Streets CIC which delivers arts and culture projects working collaboratively with communities. Tracey spends the rest of her time working on independent projects to document hand-painted walls found in streets around the world.
She has been visiting Jamaica since 2009.
This exhibition builds on Tracey's work to document and share stories that explore the ephemeral landscape found in streets and urban spaces. With a particular interest in hand-painted advertising signs, street art and graffiti, Tracey's original research has produced the largest photographic survey of hand-painted street signs (ghost signs) in Birmingham.
Through her work Tracey fuses together the act of walking the streets to discover alternative ways to navigate and think about places, exploring themes connected to 'freedom and space'. Tracey uses street photography within this context to connect with the space and to record the stories which are written on the walls.