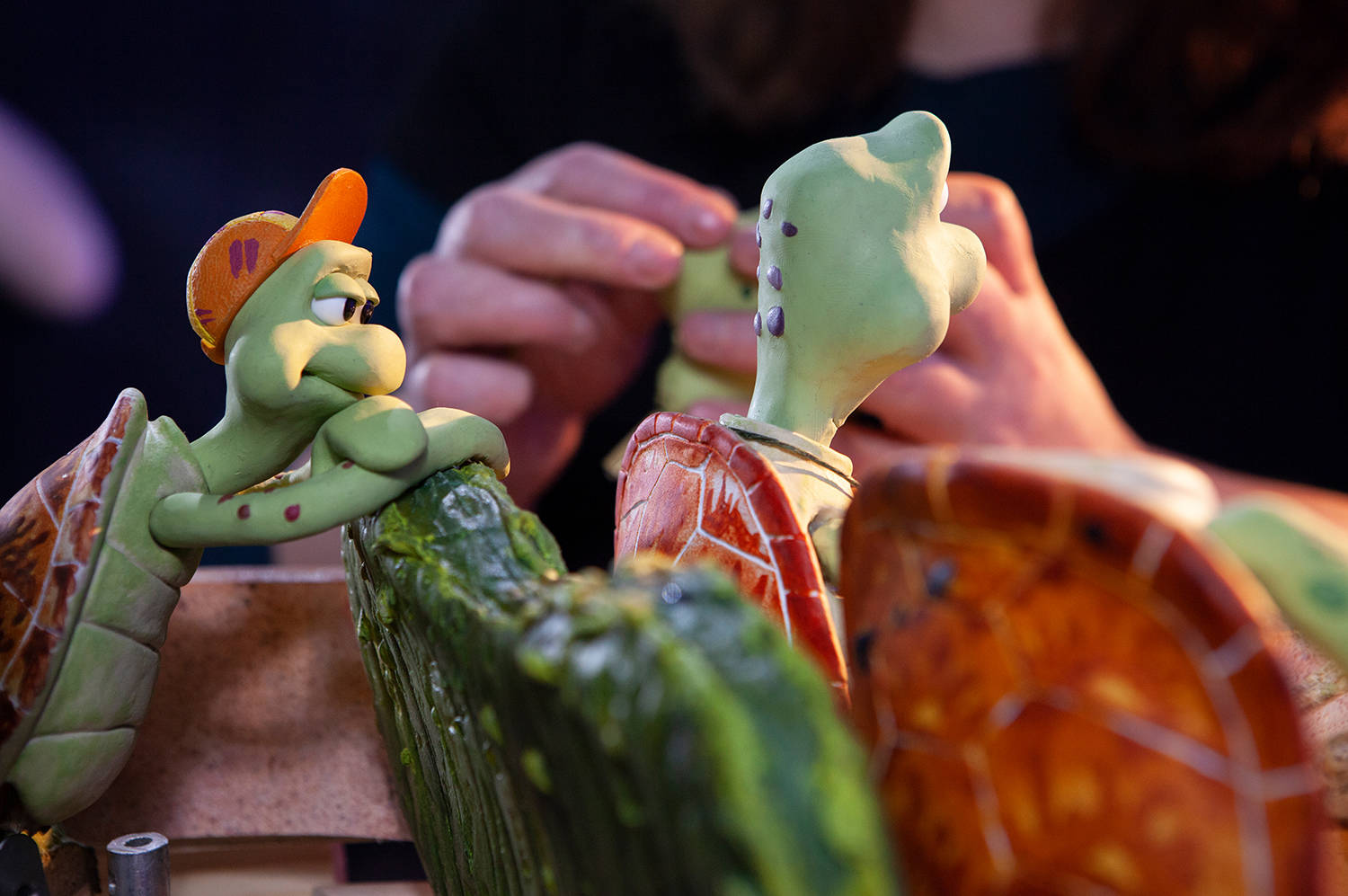 Find out more about his recent 'dream project' for Greenpeace, telling human stories through another species and some fantastic behind the scenes shots.
Aardman's recent release is their powerful film for Greenpeace, A Turtle Journey is a heartbreaking tale following a family of turtles as they head home.
With a strong message the piece clearly highlights the increasing pressures that climate change, pollution, oil drilling and overfishing are all having on our oceans.
The film has all of the qualities expected from an Aardman production, expert storytelling, humour and the ability to capture a range of emotions through animation. It also features an impressive line-up of vocal talent including Olivia Colman and Dame Helen Mirren, along with Game of Thrones' Bella Ramsey, Stranger Things' David Harbour, Downton Abbey's Jim Carter, and comedian Ahir Shah.
We caught up with Gavin Strange, Director and Designer at Aardman Animations, and BDF 2019 speaker, who kindly answered a few questions about the project.

First of all, congratulations on such a thoughtful and powerful film, everyone here at team BDF loved it. We think a good place start is right at the beginning, how did the project come about, and what is the process at Aardman for pitching ideas?
The project came about when Aardman & Greenpeace started a creative conversation about wanting to work together. Following in the same vein as their 'Rang-Tan' campaign which was incredibly successful, they wanted to use animation to tell an emotive story. This developed into a brief which a group of Aardman directors pitched on, and I was the lucky pup who won! My story was entitled 'Loss' and was using storytelling, humour and creativity to tell an urgent story of loss; Loss of a family member, loss of a home, loss of a habitat.
That's just one of the ways ideas come to fruition here at Aards – but it happens in all sorts of ways. We approach people, people approach us, people see something we've done previously, people want something new that's not been done before – there's no set path for how things happen and that's really exciting.
There's a big broad range of right talented folk here who work in all sorts of mediums and do all sorts of work, so I think diversity is really key and it's just about getting it out there and putting things out into the world. That's why I love doing my own personal work in my own time and making things that excite me or challenge me, it's a chance to experiment and then that can feed into what you do during your work time!



You've written an extensive blog piece on the behind the scenes work over on the Aardman website, which shows how hands on you were for the film. How would you say the role of director at Aardman differs from the norm?
I'd say it's pretty similar to be honest, but even then, it differs from production to production, medium to medium. I think the role of a Director, in any 'genre' is to have a creative vision and to work together with everybody, in a kind, collaborative fashion, to make that vision a reality!
I do love being as hands on as possible though, and that also depends on the project. I've worked on things where I design, direct and animate, working with just a producer and sound designer – but then something like Greenpeace was the total opposite end of the spectrum (In total our crew list topped 65 people!) and I loved it! I do still like being as hands on as I can be though, to be as useful as I can be. If I can help by designing something, or annotating something – anything to make the process clearer, or make the end result better – I want to do it! (This is when it pays dividends to have a great producer who separates ego from efficiency, and can make objective calls on when it *is* best to be hands on and when it isn't!)


The film manages to strike a perfect balance of a strong message with Aardman's trademark humour, how did you manage to achieve that with such a sombre subject?
Why thank you very much! That's a very nice thing to hear, thank you! Well, that balance was always the crux of the project to be honest, so right from the initial pitch, it's always been about striking that correct tone. At every single stage we've made sure we've addressed it and hopefully that's how it's worked out as a corent balanced message; because we've been careful to check it every time we move onto the next steps.
In the initial pitch my story was a little too dark (I killed everyone except the Mother Turtle! Which is surprising for me, as I really don't like watching hard-going heavy-hitting things) but that took things the other way, it was too dark and felt too jarring in comparison to the family antics that preceded it.
I felt that with it being a family journey, you naturally get comedy in those situations, especially between all the different characters and personalities forced together in such a small space. It was also the way that hopefully the film speaks to everyone, because they recognise that situation – a long journey home with your folks.
Creature Comforts was of course a huge inspiration for the film, and one that Greenpeace referenced from the start. Our dialogue in the film is all scripted, but it's performed naturally in that we had many alternates for each line in the script, so each actor said the line in a more natural, personal way to them. We took all those takes from the voice records then built the voice of the family in the most authentic way we could – including everybody talking over each other and nobody listening to one another!
Also, man, it was a dream to work with such incredible voice actors on this! Directing two literal Academy award-winning queens Olivia Colman and Helen Mirren was mind-boggingly brilliant. It felt very special to work with everyone who brought the characters to life with their voices! They were all also naturally really funny and charming too, which came through in their performance.
Hopefully that natural comedy is what pulls us in and makes us care, because we see ourselves in these plasticine characters, but then the emotional gut punch at the end is even more valid because we can imagine how devastating that would be to loose a family member.

Where did the concept come from to focus on one family of turtles?
When we first started talking to Greenpeace, they highlighted a few species in particular are being disturbed on their migratory patterns due to the state of the oceans: Sharks, Whales, Albatross, Turtles & Eels. There's lots lots more species that are being affected of course, but they were a starting point suggestion from Greenpeace.
There wasn't a specific reason we settled on Turtles, it just felt like they were the closest to humans to able to anthropomorphise them and tell a human story through the eyes of another species. That's because my initial seed of the idea was always my disbelief at the difference between our responses to when we see disasters wreak havoc on humans lives and habitats vs animal lives and habitats. I thought if I told a human story in the body of Turtles, it could connect with the audience in a way only animation can.
The movie 'The Impossible' was also a big touchstone for the idea too. That movie is based on the events of the 2004 Indian Ocean tsunami and focuses on a family that is torn apart by the devastation the tsunami brings. I felt that by keeping the story about just one animal and one family, we could keep the focus tight, especially in needing to tell a powerful story in just 90 seconds!

Anyone who knows you, or follows you on social media, will know your world view and how personal this film must have been for you to direct. Do you feel your passions made this 'dream project' easier?
Why, whatever do you mean!?… haha! Well, I *guess* I am a little vocal about my world view (spoiler alert: I want a world that is kind and fair and tolerant). That's why I feel SO proud and privileged to have been able to tell this story, because it *is* a really personal story. I teared up every time I showed the mood reel that I cut together at the beginning of the project which started out light and fun and sweet and descended into tragedy. I made a LAV (live action video) reference for all the shots in the film including the end scene where the Dad Turtle and family are in tears and yup, I was sobbing making that too. I've always been an emotional ol' sausage – so it feels very special to really use that and tell an important story with it.
Another touchstone for the film was something that you see in a lot of documentaries – where the interviewee is talking about something hard, loosing a loved one for example, and they become overwhelmed and don't know where to look, overcome with grief with their eyes wet with tears and their voice not producing a sound. That very real human emotion was something I wanted in our film, something that was really 'the' shot that would define the piece and it's incredible that I got to work with such an amazing team who made that possible, who got this inanimate bundle of green clay to emote and to portray exactly that heartbreaking moment.
I genuinely got a lump in my throat typing that then. Phew, time to move on, I can't be seen sobbing at my desk *again*…

Finally, we think the film shows how powerful the creative industry can be in highlighting key issues globally. What advice would you give to any creatives who want to use their skills to make a change for good?
I guess, just 'do it', go for it! You have a voice, use it. Don't wait for an audience, the audience will find you. Tell the stories that matter to you – don't wait for permission, beg for forgiveness.
That's all from our questions, thanks once again to Gav for his answers. Before you go make sure you check out the short 'making of' film below.
And if you haven't yet seen the film, we strongly recommend you do. Follow the link below to Greenpeace's website where you can watch it and sign the petition to the UK Government to deliver a Global Ocean Treaty.