Chris
Do
CEO and Chief Strategist of Blind and the founder of The Futur
Chris Do is an Emmy award-winning designer, CEO and Chief Strategist of Blind and the founder of The Futur—an online education platform that teaches the business of design to creatives.
He currently serves as the chairman of the board for the SPJA, and as an advisor to Saleshood. He has also served as: advisory board member for AIGA/LA, Emmys Motion & Title Design Peer Group, Otis Board of Governors, Santa Monica College and Woodbury University.
He has taught Sequential design for over a decade at the Art Center College of Design. Additionally, he has lectured all over the world including Digital Design Days Milan, Lu Xun Academy Fine Art Dalian, Motion Conference Santa Fe, MIT Boston, Bend Design Conference Bend, VMA Design Conference San Francisco, Graphika Manila, Create Philippines, Rise Up Summit Cairo, RGD Design Thinkers Toronto, California Institute of the Arts, LA Art Institute, Otis College of Design, UCLA, MGLA, Cal State Los Angeles/ Northridge, Post Production World, Adobe Video World and San Diego University.
Mr. Do has given talks and conducted workshops on: Negotiations, Pricing & Budgeting, Leadership Mindset, Branding, Graphic & Motion Design, Social Media Marketing, Entrepreneurship, Business Management, and Client Relations.
Years: 2019
Website
Twitter
We're delighted to announce our first set of speakers for Birmingham Design Festival 2019 (6th–8th June) and what a list it is! With a selection of four from each district, these first 12 designers showcase some of the very best aspects of our industry.
From leading the way in creative brand application to teaching the future generation how to code, we hope this initial list give you an indicator of what's to come from BDF 2019.
The list above forms part of our much wider programme that currently boasts over 60 designers from around the world all touching upon the topic of Truth. This will be happening in multiple venues across the south-east side of the city centre in Digbeth, one of the city's most creative quarters.
Much like BDF 2018, this year's edition of the festival will see our campus split into three distinct Design Districts based on a common theme of disciplines. These are Graphic, Digital and Product.
In the Graphic Hub, you can expect to find a wonderful mix of traditional design vocation. Brand, typography, print and ink all live here inside the Parkside building of our wonderful hosts Birmingham City University.
For those of you with an inclination towards design for screen, the Digital Hub will allow you to explore UX design, animation, digital product, visual effects and much more at The Old Library.
If you want to get a little more hands-on over at BCU STEAMhouse you can enjoy a programme focussed on makers. Architecture, interior design, product design and fashion all hang out here in our Product Hub.
In addition to the hubs, which will each host 5 free talks per day, a number of satellite venues make up the Design Districts. Featuring workshops, screenings, exhibitions and tours they are the perfect opportunity to engage with Digbeth's many varied industrial spaces and level-up your design prowess.
Once the daytime activities are over and after a short bite to eat we then transition over to our larger evening venues where you can expect talks built around a theme, with big-name speakers travelling from far and wide to share their knowledge and experience.
On Thursday night we rekindle the Glug Birmingham atmosphere at Mama Roux's, Friday we'll be scaling things up at The Giant Screen in Millenium Point and Saturday sees a return to the beautiful Royal Conservatoire.
We're really excited to share more information on the programme soon, and you can be the first to know by picking up a ticket to Glug Birmingham on Thu 4th April. As well as getting a breakdown of our main events there will be four outstanding talks from speakers Claire Farrell, James Greenfield, Annatomix and Joseph Liu.
Tickets for BDF 2019 will go on sale early May, with a full programme announcement shortly before. If you're planning to attend the full festival our partners Bloc Hotels will have a special discount code for 2019 attendees launching soon.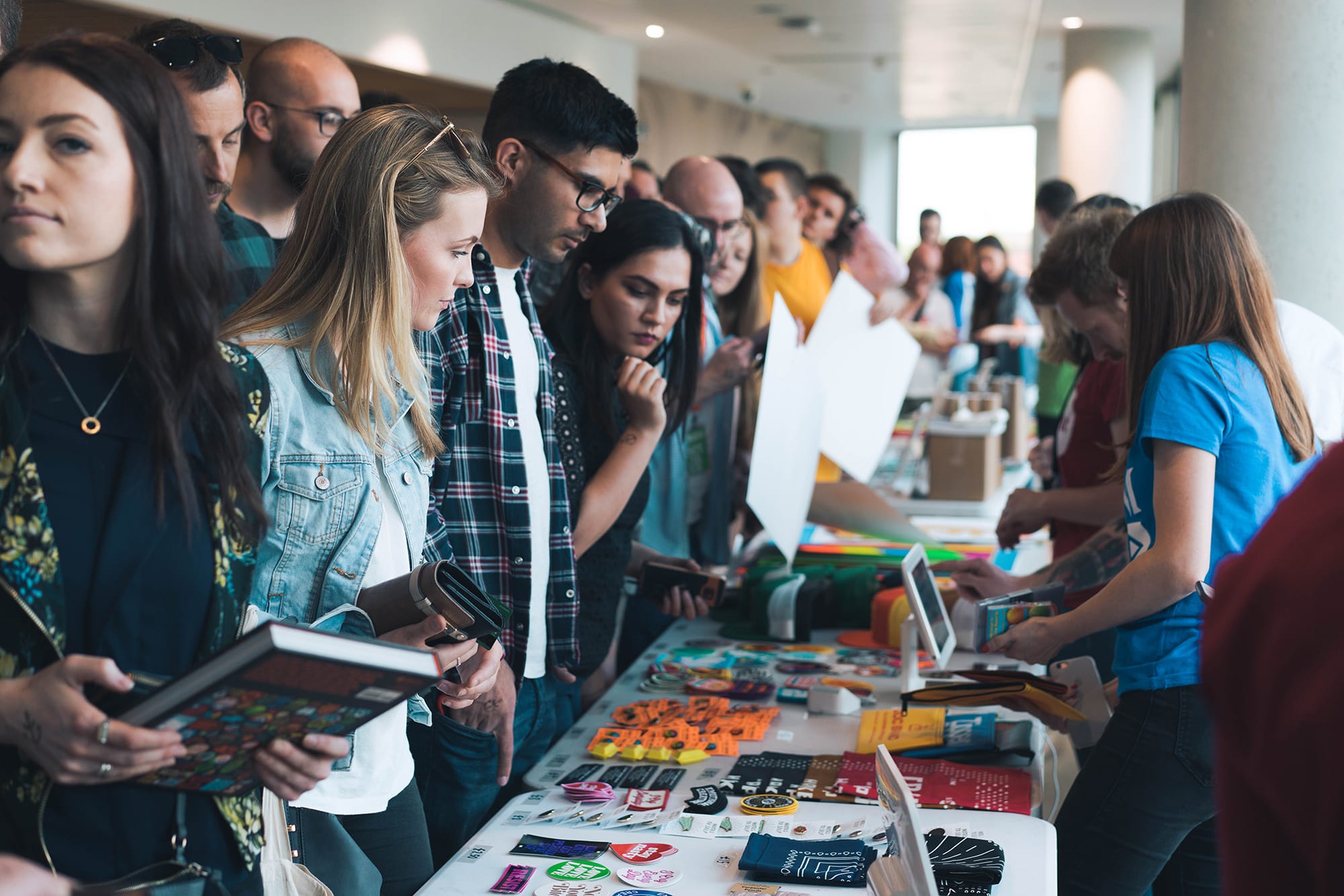 Become a partner
Help support the festival
Becoming a festival partner is the best way to show your support for the festival and get something out of it too. Packages from £750.